American College of Radiology – Accredited for General Ultrasound and OB Ultrasound

Canadian Association of Radiologist's accreditated for Mammography

Canadian Bone Mineral Densitometry Accreditation from the OAR (Ontario Association of Radiologists)

Cardiac Care Network accrediated for Echocardiography

Ontario Breast Screening Program
Welcome to the Toronto Centre for Medical Imaging
Specializing in Diagnostic Imaging Services – 416-368-8488
The Toronto Centre for Medical Imaging (TCFMI), located in the heart of downtown Toronto – in the financial district – is a state of the art medical imaging clinic providing the following diagnostic imaging services: X-Rays, Ultrasounds, Mammography, Bone Density Tests and Echocardiography.
Specialized procedures also include Breast Biopsies, FNAC Thyroid Nodule, Ultrasound for Sports Injuries, Vascular Ultrasound and Full Range of Obstetric Ultrasound.
The Toronto Centre for Medical Imaging is a licensed diagnostic imaging clinic for performing immigration Chest X Rays. A Chest X Ray is performed on all clients immigrating to Canada as part of their Immigration Medical Examination as directed by Citizenship and Immigration Canada. The patient must bring in a signed referral form from a panel physician to our office with the E Medical documents and Interim Federal Health (IFH) certificate.
The Toronto Centre for Medical Imaging is the first dedicated medical imaging clinic in Ontario to offer the Automated Breast Ultrasound. An Automated Breast Ultrasound uses high frequency sound waves to take 3D images of the whole breast, ensuring they are displayed in a reproducible fashion.
It is especially beneficial for women with dense breast tissue, because dense breast tissue can make a mammogram harder to read. Automated Breast Ultrasound is now recommended as supplemental screening in conjunction with screening mammography for women with dense breasts (BI-RADS Type C and D).
We Value Short Wait Times For Mammograms & Other Imaging Tests
Due to the pandemic, wait times for most medical procedures throughout the province may have increased – including for tests such as screening mammograms.
At the Toronto Centre for Medical Imaging, our wait times are short for screening mammogram to accommodate our patients in a timely fashion.  Urgent mammograms, and if needed, breast biopsies can be booked within 24-48 hours.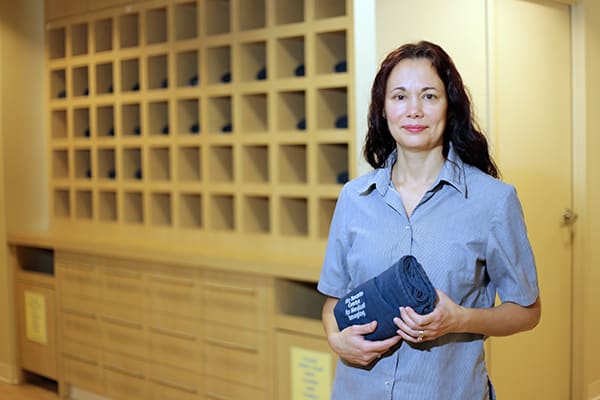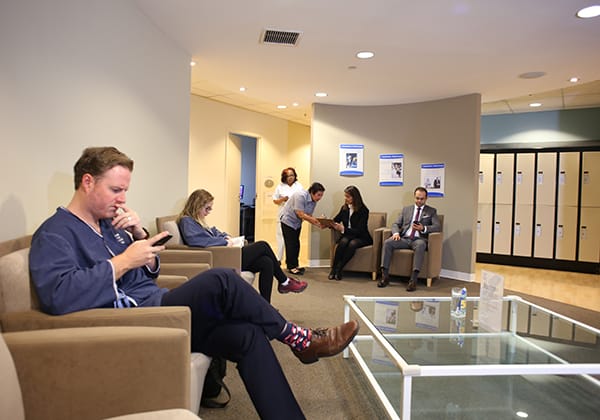 State-of-the-Art Medical Imaging Facility in Downtown Toronto
When you call our office, you will speak to a receptionist who will make sure that your appointment is scheduled in a timely manner. We take pride in keeping our waiting times short. When you arrive, you can expect to be greeted by a friendly receptionist in a pleasant, bright, modern medical imaging facility.
Change into a customized gown that does not embarrass, relax in a comfortable, private waiting area. But don't get too comfortable, as you will be taken for your appointment on time!
In our spacious examining rooms, you can expect to have your examination performed by highly trained, professionals using state of the art digital equipment. Our protocols have passed the rigorous standards of various National Accreditation bodies.
We make what frequently is an unpleasant necessity of life … pleasant!
Governing Law and Jurisdiction Notice:
When treating or providing medical services to patients who are non-residents of Canada, our insurance provider requires us to obtain the signature of such patients on the attached Governing Law and Jurisdiction Agreement (the "Agreement"). We understand that you are a non-resident of Canada. While we will do our best to provide you with excellent and safe medical imaging services, should there be any reason for you to commence any kind of claim or proceeding against the Toronto Centre for Medical Imaging Inc., and member of our staff or health care professionals in respect of any aspect of our relationship with you, the attached Agreement provides that you agree to have the laws of the Province of Ontario and the federal laws of Canada apply to such claim or proceeding and that you will submit to the Courts of the Province of Ontario to hear any such dispute. In order for us to provide you with the requested medical imaging services, please sign the attached agreement to evidence your consent to the foregoing.
Yours very truly,
The Toronto Centre for Medical Imaging Inc.
Governing Law and Jurisdiction Agreement – Download, Print, and Sign Form HERE >
Important Notice:
Children are not allowed in the examination room or unsupervised in the waiting room. The Toronto Centre for Medical Imaging does not provide childcare services while you are having your test.